Submit Your Own Ad, Deluxe, Or Text-Entry Listing
You can have a beautiful ad for your business on YLocale today. Click the button to begin. See below for the advantages of using YLocale.
Get Started Now or sign in here.
Why Use YLocale?
With the other guys...
(plain, boring, little information)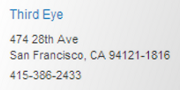 With YLocale...
(your message, clear and vibrant)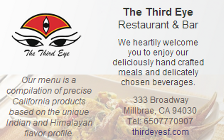 YLocale Gives You...
Your Message, Your Way
Give your customers the message you want. Have it look the way you want.
How your listing looks
With other directories
The way they want
With YLocale
The way you want
---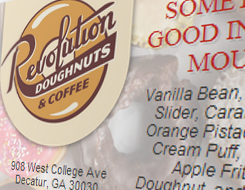 Show, don't tell
With YLocale deluxe ads, you can add images enriching your ad, just like the paper Yellow Pages.
---
Link To Your Website
And of course you can have links back to your website (real, "DoFollow" links too)! You can choose to link to specific pages on your site for more targeted ads.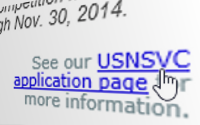 ---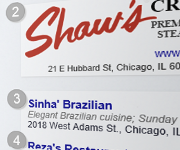 Ads Display With Text Listings
Users have gotten used to ignoring areas on a webpage with ads. With YLocale, your ads display together with text entries, making it clear that they are true search results.
---
Coupons, Specials, Deals
You can also show coupons, specials, or deals with your ads. This will appear in a yellow box below your ad and may help call attention to it. You can also set an expiration date on the coupon.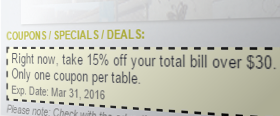 Get Started Now or sign in here.
How To Get Started Creating A Listing On YLocale
Choose a size for your ad.

There are different prices for the various sizes - see the pricing page for more information. You can also choose a plain-text listing. If you wish to do that, simply scroll to the form at the bottom, skip to step 4 below, and submit your information.

Pick a template.

Choose a template to start with. Note you can customize the entry later.

Enter the information for your business step-by-step.

Be sure to enter a description that contains phrases you expect your customers to be searching for. For example, if you want to attract customers looking for paving stones, you might want to have "paving stones" mentioned in your description.

You can customize the ad.

There is an editor near Step 6 of the form which allows you to change fonts, colors, etc. No experience with HTML is needed. You can add links back to your website, which can in turn improve the search rankings and SEO for your own website. If you do have HTML experience, you can also edit the HTML for the ad directly.

Submit Your Ad.

Once you submit the ad it will be checked for necessary information, and then there will be a popup letting you know you first need to choose a plan before your ad becomes visible to the public. Click the Continue button.

Sign up for a plan.

On this page you can choose a plan and submit your payment information. Read the Terms of Service, click the checkbox, and then click Place Order when ready. Discounted prices are available now for a limited time - now is a great time to get in your ad before your competitors. Once your payment is successful, your ad will now be visible publicly. All done!
Tips For Creating A Great Ad
YLocale gives you much more control over your ad than most other sites. You can change the fonts, colors, add images, and links. Here are some tips for creating an effective ad.
Correct Information - Make sure the information for your business is accurate ... of course!
Good Description - Use the description field to summarize what your business does and what are your areas of expertise. Remember, if your description just says "awesome plumber", a customer searching for "plumbing sink drain cleaning" may not be able to find you.
Preview - Use the Preview to view how your ad will appear. Make sure all your information fits nicely within the allotted area. The Preview should be shown automatically (near Step 6), or you can press the button to manually update the preview.
We can help! - See below for how we can help design your ad for you...
We Can Help
Got questions? Simply use the Quick Feedback fields at the bottom of every page to leave us a message.
Want a more customized ad but don't have an HTML designer handy? No problem! We can help design your ad for you, and there is no payment for that service unless you choose to use the ad we've designed. Click here for more information.
Get Started Now or sign in here.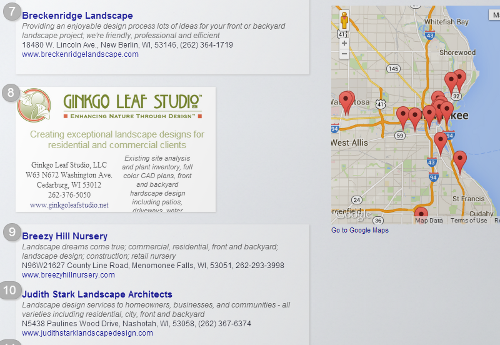 YLocale Business Directory - a new-and-improved, online Yellow Pages allowing for full-color local business ads and listings. Submit your own entry today.
Get Started Now or sign in here.